Scientific Committee
President
Prof. Federica I. Wolf
Rome (Italy)

"Dear Colleagues and Friends,...

---
Past Presidents
Dr. Jean Durlach
Paris (France)
Dr. Yves Rayssiguier
Clermont-Ferrand (France)
Dr. André Mazur
Clermont-Ferrand (France)
---
Society Board
Michael Lenardo
Bethesda (USA)
Maria-José Laires
Lisbon (Portugal)
André Mazur
Clermont-Ferrand (France)
(Vice-President)
Andrea Fleig
Honolulu (USA)
Yves Rayssiguier
Clermont-Ferrand (France)
Edmond Rock
Clermont-Ferrand (France)
(Secretary/Treasurer)
SDRM EVENTS

The Workshop MAGNESIUM IN NEUROSCIENCE, PRECLINICAL AND CLINICAL FINDINGS will be held in Krakow (Poland), April 20-21, 2018.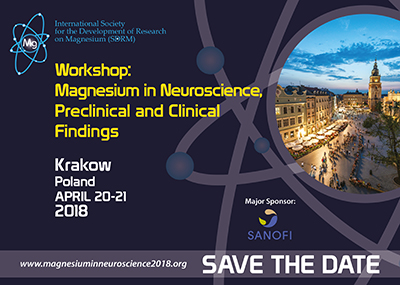 The Congress venue will be:
HOTEL POLSKI POD BIALYM ORLEM Donimirski Boutique Hotels ul. Pijarska 1731-015 Kraków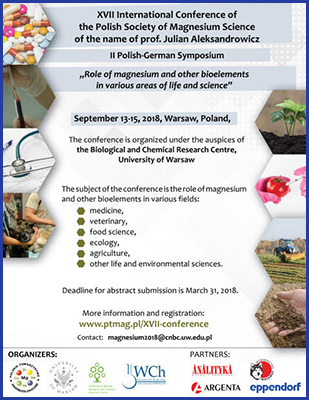 The XV INTERNATIONAL MAGNESIUM SYMPOSIUM will be organized with and will take place at NIH in Bethesda, USA, March 21-23, 2019. Information will be available shortly on SDRM website.
SDRM PAST EVENTS
"MAGNESIUM IN HEALTH AND DISEASE"
THE XIV INTERNATIONAL MAGNESIUM SYMPOSIUM
Rome, June 23-24, 2016
NEWSLETTER – ACKNOWLEDGEMENTS – POST EVENT
More than 150 delegates from all over the world attended the XIV INTERNATIONAL MAGNESIUM SYMPOSIUM, which on Friday afternoon June 24 marked its final day.
It has been a two-day full-immersion meeting on "Magnesium in Health and Disease", I believe we accomplished our goal to cover the major biomedical aspects of magnesium research with special emphasis in merging epidemiologic and clinical data with basic biological mechanisms. We hope you learned something and you enjoyed meeting with great experts. Magnesium is crucial in a wide array of pathophysiological conditions, and we believe we provided a background to implement its study and its beneficial effects in health and disease.
I would like to thank all the delegates for their active participation to this important meeting.
We received 38 abstracts, 13 oral communications, 25 posters.
Awards have been assigned to:
SARA CASTIGLIONI
VALENTINA TRAPANI
NICOLA VERONESE
For BEST ORAL COMMUNICATIONS
And to:
ALESSANDRA CAZZANIGA
SERGE HARDY
FRANCESCA LUONGO
VALENTINA PETITO
FRANCISCO RIOS
For BEST POSTERS
I would like to thank again also the companies for their active contribution: SANOFI, ACQUE MINERALI D'ITALIA, COUNCIL FOR RESPONSIBLE NUTRITION, DONAT, CEMON, FJ LIFESCIENCES, ORIEL, MGKVIS, GIOVANNI EDERLE, MV MEDICAL, ALMONDS LOMAN.
We were delighted that our social dinner at HORTI SALLUSTIANI gathered more than 120 people and once again, Roma had the opportunity to show its wonderful areas.
Furthermore, I am pleased to inform you that the authorized slides will be published online shortly.
Thank you again for attending this Symposium and hope to see you again next IMS.
Updated information will be published on this home page.
ARRIVEDERCI
Federica Wolf, PhD.

OTHER EVENTS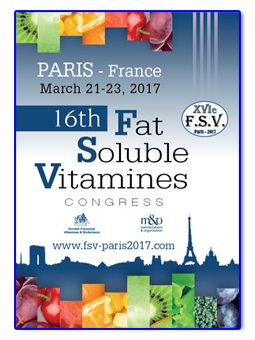 OTHER EVENTS
PAST EVENTS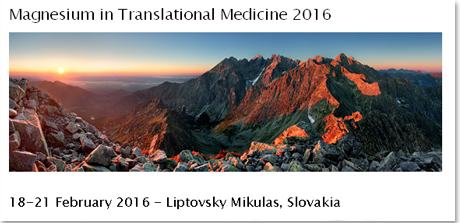 PAST EVENTS
1st Announcement of European Workshop 2014
PAST EVENTS
PAST EVENTS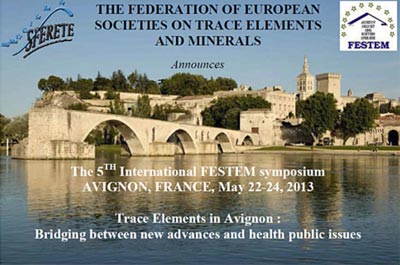 PAST EVENTS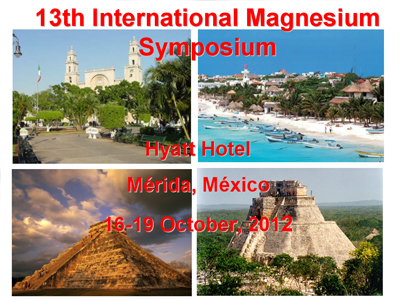 PAST EVENTS

PAST EVENTS

PAST EVENTS
13th Meeting of the Polish Magnesium Society
Szczecin, 8-10 September 2011
President of the Organizing Committee
Prof. Dariusz Chlubek