Scientific Committee
President
Prof. Federica I. Wolf
Rome (Italy)

"Dear Colleagues and Friends,...

---
Past Presidents
Dr. Jean Durlach
Paris (France)
(Honorary President)
Dr. Yves Rayssiguier
Clermont-Ferrand (France)
Dr. André Mazur
Clermont-Ferrand (France)
---
Society Board
Stefano Iotti
Bologna (Italy)
Maria-José Laires
Lisbon (Portugal)
André Mazur
Clermont-Ferrand (France)
(Vice-President)
Andrea Fleig
Honolulu (USA)
Yves Rayssiguier
Clermont-Ferrand (France)
Edmond Rock
Clermont-Ferrand (France)
(Secretary/Treasurer)
WELCOME TO SDRM
The International Society for the Development of Research on Magnesium (SDRM) is a non-profit organisation. The purpose of the Society is to promote magnesium research in all branches of life science and medicine by increasing the collaboration, diffusion and exchange of information. SDRM holds international scientific meetings and supports the publication and presentation of scientific results.
"Magnesium Research " is the official scientific JOURNAL of the Society: http://www.magnesiumresearch.com/index.phtml
SDRM was founded in the '70s in Paris by a group of medical doctors under the leadership...(Read More)

With great satisfaction we present an outstanding research work, a PhD thesis entitled "The Art of Magnesium Transport", by Jeroen de Baaij. This book is the conclusion of a four-year work at the Department of Physiology of the Radboud University of Nijmegen, under the guidance of Prof. Rene Bindels. We congratulate Jeroen on his brilliant achievements.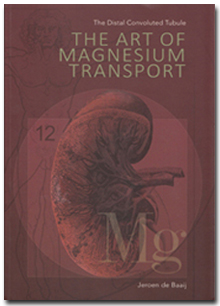 It is our intention to promote and inform the Society on relevant projects on Magnesium developed by Students or Young Researchers. We will therefore regularly publish thesis summaries. Selected works by these young members will be invited to contribute to Magnesium Research Journal with a "My first review" article.

Thank you for informing us on ongoing research projects in this field.